UNSUITABLE: Caroline Linden
UNSUITABLE #34: Made for Each Other?: Developing Romance Protagonists
A Conversation with Caroline Linden
Join us on Wednesday, March 24, 2021, at noon EST for a conversation with author Caroline Linden. Linden was born a reader, not a writer. She earned a math degree from Harvard University and wrote computer code before discovering that writing fiction was far more fun. Since then, the Boston Red Sox have won the World Series three FOUR times, which is not related but still worth mentioning. Her books have been translated into seventeen languages, and have won the NEC-RWA Reader's Choice Award, the Daphne du Maurier Award, the NJRW Golden Leaf Award, and RWA's RITA Award. She lives in New England. Find her online at carolinelinden.com.
Free and open to the public. Advanced registration required. Co-sponsored by the Forum for Scholars and Publics at Duke University.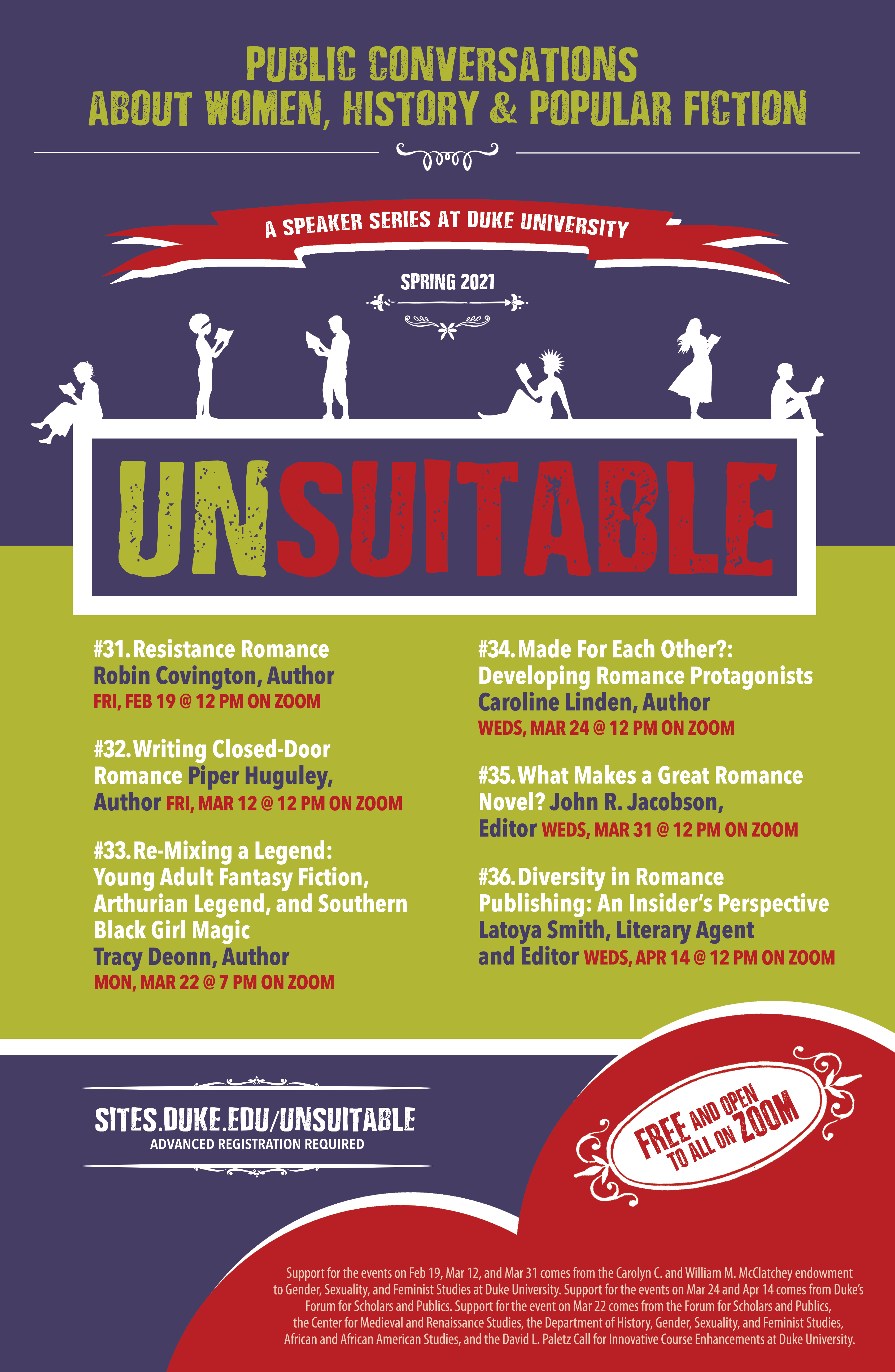 #31: Resistance Romance
Fri, Feb 19 @ 12 pm on Zoom
#32: Writing Closed-Door Romance
Fri, Mar 12 @ 12 pm on Zoom
#33: Re-Mixing a Legend: Young Adult Fantasy Ficiton, Arthurian Legend, and Southern Black Girl Magic
Mon, Mar 22 @ 7 pm on Zoom
#34: Made for Each Other?: Developing Romance Protagonists
Wed, Mar 24 @ 12 pm on Zoom
#35: What Makes a Great Romance Novel?
Wed, Mar 31 @ 12 pm on Zoom
#36: Diversity in Romance Publishing: An Insider's Perspective
Wed, Apr 14 @ 12 pm on Zoom