UNSUITABLE #33: Re-Mixing a Legend
Young Adult Fantasy Fiction, Arthurian Legend, and Southern Black Girl Magic with Tracy Deonn
Join us on Monday, March 22, 2021, at 7 pm EST for a conversation with Tracy Deonn, New York Times bestselling and Coretta Scott King award-winning author of LEGENDBORN. Deonn will talk about her 21st-century reimagining of Arthurian legends on a college campus in North Carolina, the rich research that went into writing the novel, and what identity studies and modern storytelling have to do with a medieval legend. Find her online at tracydeonn.com.
Free and open to the public. Advanced registration required. Support for this event comes from the Forum for Scholars and Publics, the Center for Medieval and Renaissance Studies, the Department of History, Gender Sexuality and Feminist Studies, African and African American Studies, and the David L. Paletz Call for Innovative Course Enhancements at Duke University.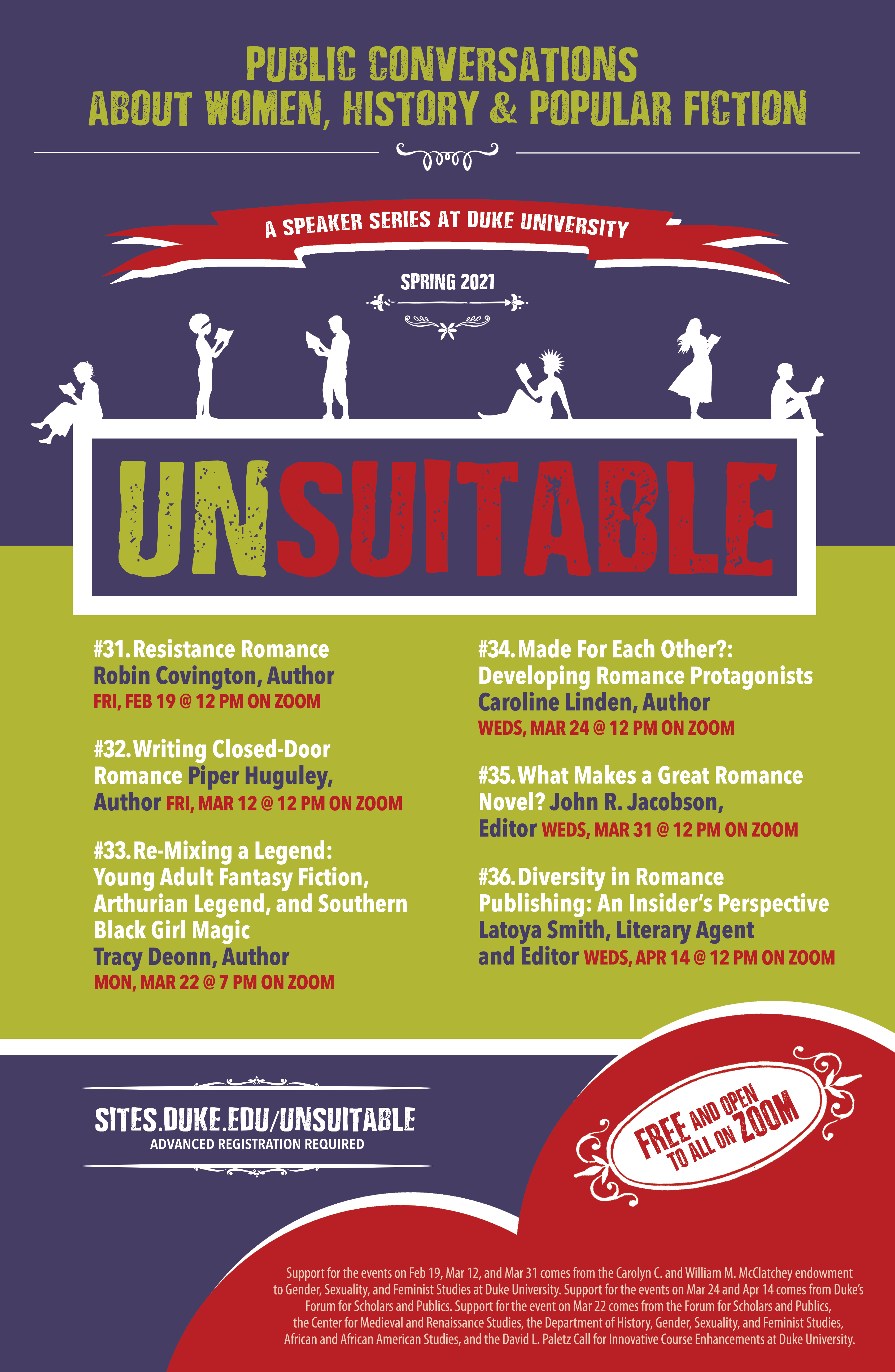 #31: Resistance Romance
Fri, Feb 19 @ 12 pm on Zoom
#32: Writing Closed-Door Romance
Fri, Mar 12 @ 12 pm on Zoom
#33: Re-Mixing a Legend: Young Adult Fantasy Ficiton, Arthurian Legend, and Southern Black Girl Magic
Mon, Mar 22 @ 7 pm on Zoom
#34: Made for Each Other?: Developing Romance Protagonists
Wed, Mar 24 @ 12 pm on Zoom
#35: What Makes a Great Romance Novel?
Wed, Mar 31 @ 12 pm on Zoom
#36: Diversity in Romance Publishing: An Insider's Perspective
Wed, Apr 14 @ 12 pm on Zoom