UNSUITABLE #36: Diversity in Romance Publishing
An Insider's Perspective with Latoya Smith
Join us on Wednesday, April 14, 2021, at noon EST for a conversation with literary agent and editor Latoya Smith. Smith is a developmental editor with over 17 years of experience in copyediting, proofreading, consulting, and acquisitions. Having worked for corporate New York publishing houses, independent and boutique presses, and with self-published authors, she has a well-rounded knowledge of book publishing with a core network of relationships with authors, literary agents, and other publishing professionals.
She can assist with developmental editing, brainstorming, and consultation, as well as provide editorial services for online magazines and blog sites. She has worked on a variety of fiction and non-fiction titles (print and digital), including women's fiction, crime fiction, thriller, suspense, romance, erotica, paranormal, memoir/biography, how-to, self-help, personal finance, and inspirational.
She graduated Cum Laude from Temple University with a Bachelor's Degree in Journalism and a minor in African American Studies and has been featured in Publishers Weekly, Forbes, and USA Today, as well as on various author, book conference, and book blogger websites. She is the winner of the 2012 RWA Golden Apple Award for Editor of the Year, the 2017 RWA Golden Apple Award for Agent of the Year, and the 2017 Literary Jewels Award for Editor of the Year. In early 2014, she appeared on CSpan2, where she contributed to a panel discussing the state of book publishing. Find her online at lcsliterary.com.
Free and open to the public. Advanced registration required. Co-sponsored by the Forum for Scholars and Publics at Duke University.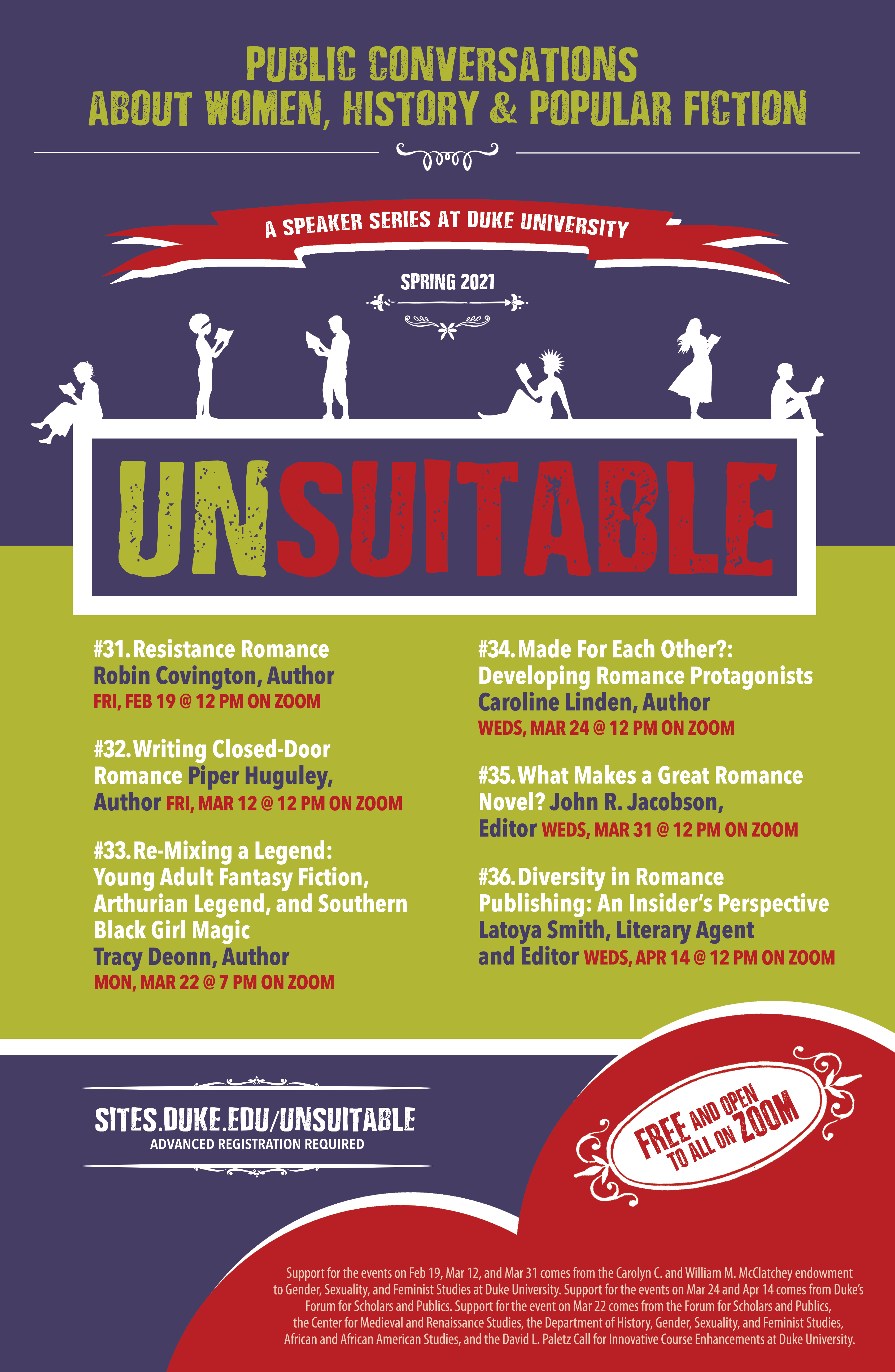 #31: Resistance Romance
Fri, Feb 19 @ 12 pm on Zoom
#32: Writing Closed-Door Romance
Fri, Mar 12 @ 12 pm on Zoom
#33: Re-Mixing a Legend: Young Adult Fantasy Ficiton, Arthurian Legend, and Southern Black Girl Magic
Mon, Mar 22 @ 7 pm on Zoom
#34: Made for Each Other?: Developing Romance Protagonists
Wed, Mar 24 @ 12 pm on Zoom
#35: What Makes a Great Romance Novel?
Wed, Mar 31 @ 12 pm on Zoom
#36: Diversity in Romance Publishing: An Insider's Perspective
Wed, Apr 14 @ 12 pm on Zoom