UNSUITABLE: Piper Huguley
UNSUITABLE #32: Writing Closed-Door Romance
A Conversation with Piper Huguley
Join us on Friday, March 12, 2021, at noon EST for a conversation with author Piper Huguley. As an author of historical romance, Huguley seeks to make new inroads by featuring African American Christian characters. She is a two-time Golden Heart® finalist. Her recent series, "Born to Win Men," starts with A Champion's Heart, named by The Washington Post as a best romance novel selection for December 2016. Huguley is also a professor of nineteenth and twentieth-century United States literature at Spelman College, and is at the forefront of efforts within the romance community to encourage publishers toward greater diversity in their books, authors, and staff. Find her online at piperhuguley.com.
Free and open to the public. Advanced registration required. Support comes from the Carolyn C. and William M. McClatchey endowment to Gender, Sexuality, and Feminist Studies at Duke University.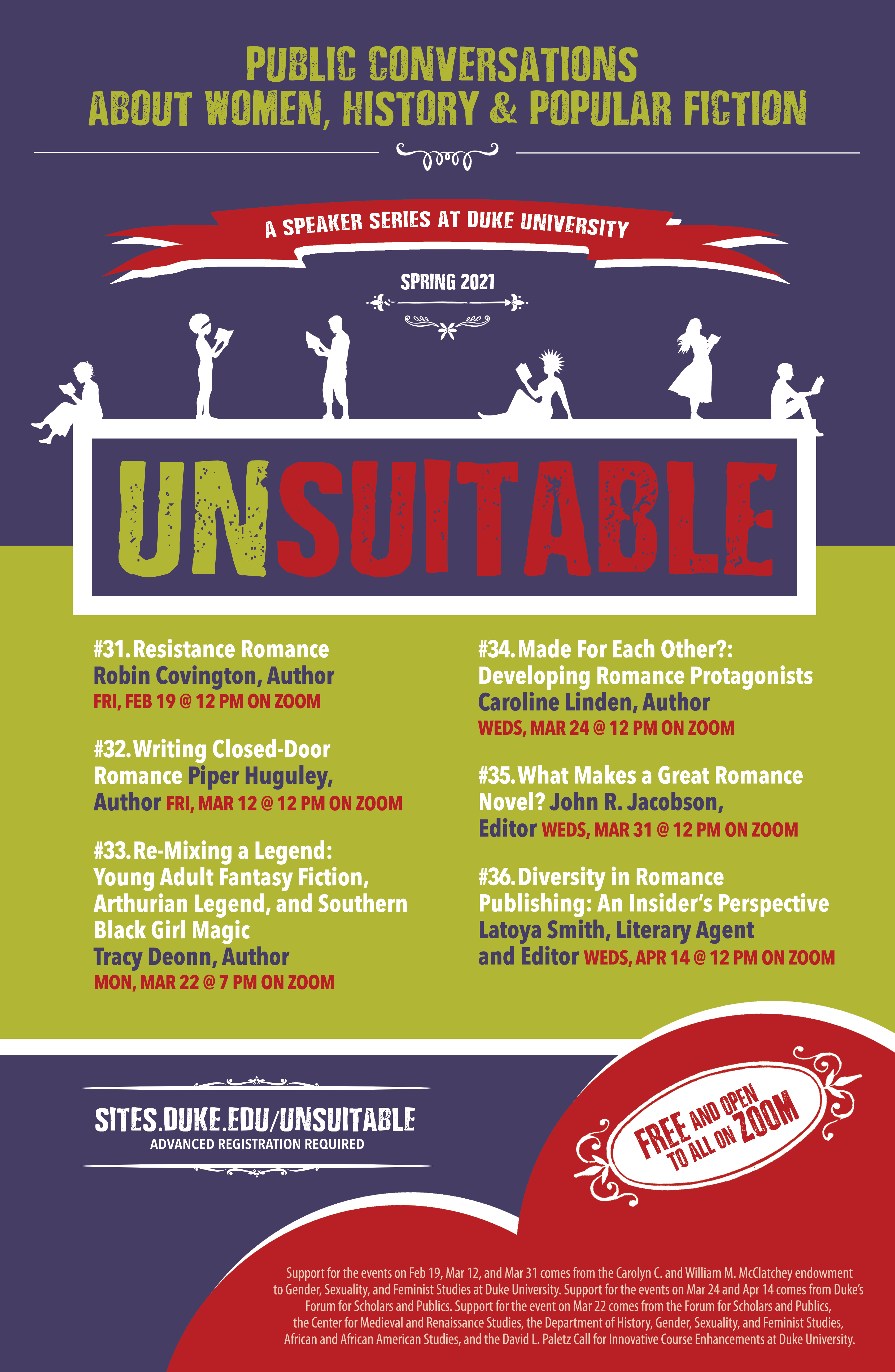 #31: Resistance Romance
Fri, Feb 19 @ 12 pm on Zoom
#32: Writing Closed-Door Romance
Fri, Mar 12 @ 12 pm on Zoom
#33: Re-Mixing a Legend: Young Adult Fantasy Ficiton, Arthurian Legend, and Southern Black Girl Magic
Mon, Mar 22 @ 7 pm on Zoom
#34: Made for Each Other?: Developing Romance Protagonists
Wed, Mar 24 @ 12 pm on Zoom
#35: What Makes a Great Romance Novel?
Wed, Mar 31 @ 12 pm on Zoom
#36: Diversity in Romance Publishing: An Insider's Perspective
Wed, Apr 14 @ 12 pm on Zoom