Visionary Aponte: Art & Black Freedom
Art Exhibition and Event Series
visit the site
Fall 2018: 9 Weeks of Visionary Aponte at Duke
The Artifact
Scholars contexualize the extraordinary — and now lost — "Book of Paintings" created by the Black Cuban revolutionary José Antonio Aponte.
Art Exhibition
15 contemporary artists reimagine Aponte's book for our present and future.
Event Series
Artists, performers, activists, and scholars invite us to rethink the role of art and history in shaping social and political change.
Residencies
Artists in residence at Duke create and unveil new works in conversation with Aponte's book and the exhibit.
About the Exhibit and Event Series
Visionary Aponte: Art & Black Freedom is a nine-week art exhibit and accompanying series of conversations, screenings, performances, residencies, and workshops at Duke University organized by the Power Plant Gallery and the Forum for Scholars and Publics in the Fall of 2018.
The exhibit takes as its point of departure an extraordinary – and now lost – historical artifact: a "Book of Paintings" created by José Antonio Aponte. Aponte was a free black carpenter, artist, and former soldier who was also the leader of an ambitious antislavery movement in Cuba during the Age of Revolution. During his trial, Aponte was forced to provide testimony describing each of the pictures in his book, which portrayed a wide array of subjects, from Biblical scenes to landscapes to episodes in the history of Africa, Europe, and the Americas. Using those descriptions, contemporary artists working in painting, drawing, sculpture, video, mixed media, and textile have reimagined Aponte's book for our present and future.
Media Coverage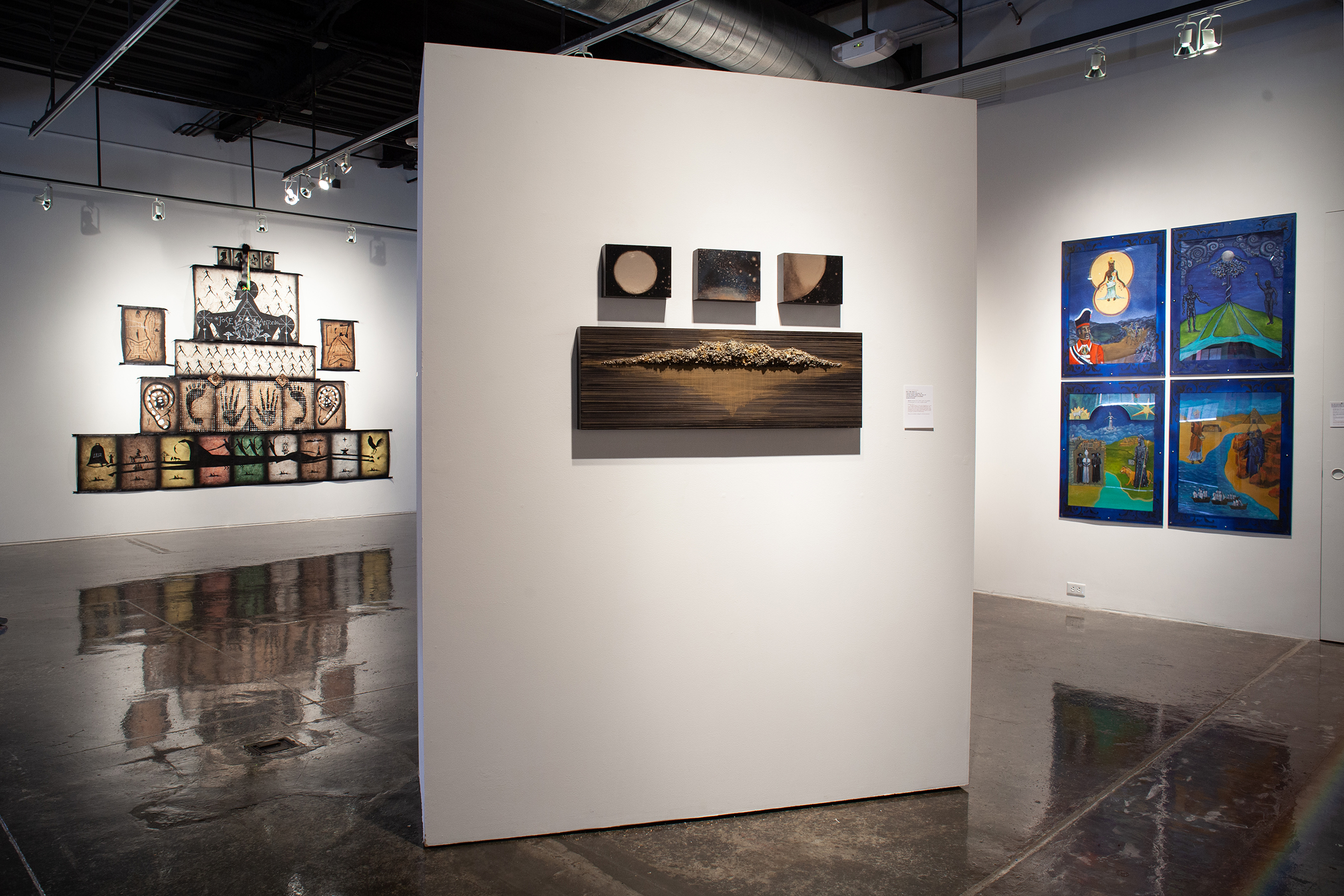 "Visionary Aponte: Art & Black Freedom," Forum Online
"There are not a lot of Caribbean or Afro-Atlantic artists from the early nineteenth century whose work we can connect with in a direct way. A lot of work in this exhibit is fundamentally about reaching a hand back or forward – Aponte reaching out from his period and us reaching back to him, making a connection and understanding the kind of ongoing struggles that artists and their communities are still facing." -Laurent Dubois
"Aponte and the Possibilities of Art," Aponte online
"Aponte's legacy reverberates in our contemporary world and asks us to imagine the possibilities of art in advancing freedom for all. Indeed, Aponte's legacy demands that we recognize artists as central to that goal." -Linda Rodríguez
"Narratives of Freedom and Oppression," Aponte online
"To this day, it is the conqueror's voice that dominates, as that of the vanquished has all but disappeared." -Édouard-Duval Carrié
"A Lost Book and the Historian's Archive," Aponte online
"The artists of Visionary Aponte have offered me new and surprising insight into Aponte's vision and new ways to think about the "everything else" in the book as part of Aponte's artistic and political vision." -Ada Ferrer
"Two Visionary Haitian Artists in the Ruby" by Robert Zimmerman, Duke Arts
"The people that were making art at that time were mostly male artists, doing mostly explosive, aggressive, powerful work. But I felt like there was not much humor to it. Also, the image of women that was being transmitted through this art was not my story." -Tessa Mars
"A Contemporary Spin on a Cuban Revolutionary" by Eric Ferreri, Duke Today
"There is a complexity to the Visionary Aponte: Art & Black Freedom exhibition that is inherently appealing. The intersection of this particular part of Cuban history with our own political and social climate is important. As an artist, Aponte used images of black kings, emperors and other historical figures from the past to imagine a future for himself and those like him." -Caitlin Margaret Kelly
Based on a digital humanities project called Digital Aponte, Visionary Aponte: Art & Black Freedom is curated by Édouard Duval-Carrié and Ada Ferrer and funded in part by the Center for Latin American and Caribbean Studies at NYU, the King Juan Carlos I of Spain Center at NYU, the Haitian Cultural Arts Alliance, and the John S. and James L. Knight Foundation. The exhibit and accompanying events at Duke University have been made possible with support from the following campus and community partners: the Center for Documentary Studies, the MFA in Experimental and Documentary Arts, The Office of the Vice Provost for the Arts – Duke Arts, the Rubenstein Arts Center, Arts of the Moving Image, Screen/Society, the John Hope Franklin Humanities Institute, the Duke Dance Program, the Duke Center for Latin American and Caribbean Studies, Art, Art History & Visual Studies, the Program in Literature, the Department of Cultural Anthropology, the Department of African & African American Studies, Duke Gender, Sexuality & Feminist Studies, Duke Performances, Duke Coffeehouse, Duke Service-Learning, and Calabasa Calabasa: Dancing and Making the Music of Life.