Laurent Dubois, the Forum's director, worked with Haitian artist Rocky Cotard and translator Jacques Pierre to produce a comic book about the Haitian Revolution for use in K-12 and college classrooms.
"The Revolution That Gave Birth to Haiti," in English and in Haitian Creole translation, is now available to read online, to download as a PDF, and for purchase in print format.
A Revolution for Our Times
About the Project
In 2017, TheNib.com approached historian Laurent Dubois about writing a comic book on the Haitian Revolution and proposed several artists as possible partners on the project. When schedules conflicted, it was Edwidge Danticat who, in a conversation with Dubois, recommended the young Haitian artist Rocky Cotard. Over the following year, Dubois supplied text, ideas, and archival images from which to work while Cotard drew on his own knowledge and experiences of the Caribbean and his artistic skill to render the story of the Revolution compelling for all ages. The Slave Revolution That Gave Birth to Haiti was published on TheNib.com in 2018.
Educators discovered the web comic and began to use it with some success in their K-12 and college classrooms. As 2020 unfolded, we watched as more and more people became aware of the Haitian Revolution and its centrality not only to the history of slavery and emancipation in the United States, but to global history. Given that teaching and learning about Haiti's revolution is perhaps more important than ever today, it seemed a good time to recreate the web comic as a comic book, one that could circulate more easily as a printed object and as a PDF.
We sought to translate the comic book into the language of Haiti — Haitian Creole — for circulation within classrooms in Haiti as well, as a way to supplement, in some small way, the written and oral materials that already tell the story of this unprecedented revolution. We hope to help younger generations grasp the full impact of their country's unique history on the history of the world.
We release the English and Haitian Creole versions of "The Revolution That Gave Birth to Haiti" on this Haitian Independence Day, January 1, 2021, in recognition of the Haitian Revolution's continuing significance. We think of those who gave their dying breaths for an end to slavery and an ideal of equality. Tout moun se moun. We are all created equal. We are all human beings. Haiti lives on as perhaps the world's best example of justice claimed, and justice rendered.
How to Read
Read online, download the PDF, and order print copies

The Revolution that Gave Birth to Haiti is available below in English and Haitian Creole via issuu.com, and in PDF format for circulation in classrooms. Print copies of the comic book in both languages are available on Rocky Cotard's website at rockycotard.com.
Read in English
Illustrated by Rocky Cotard and Written by Laurent Dubois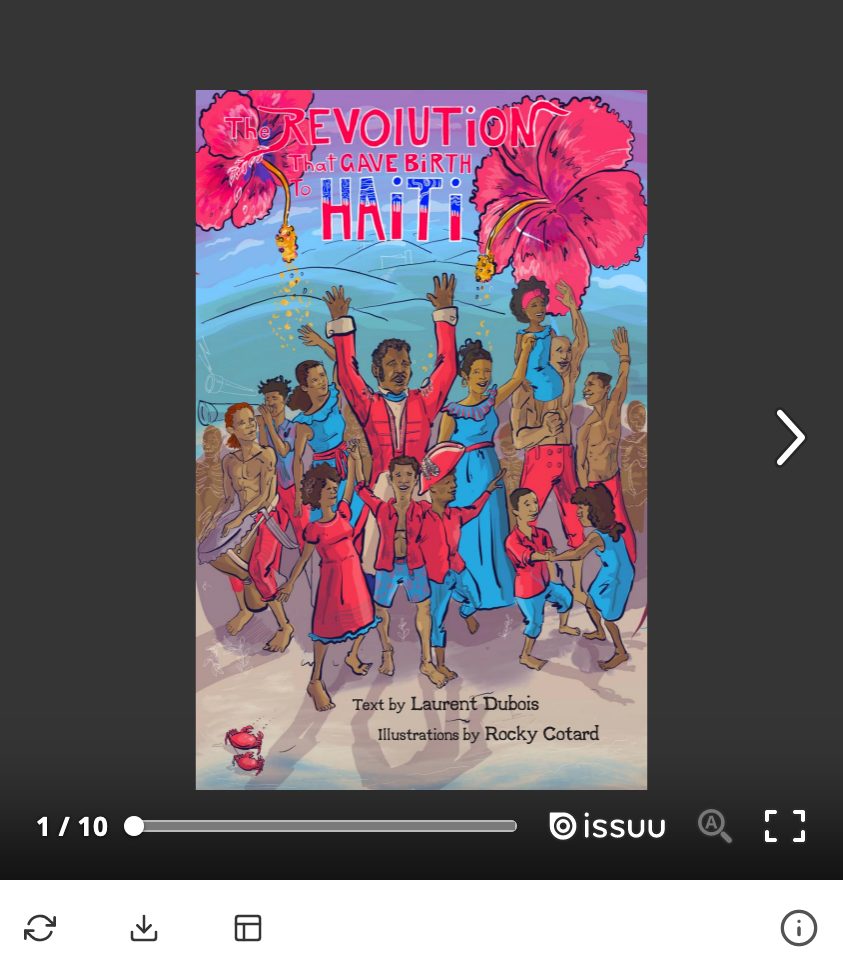 The Revolution That Gave Birth to Haiti (2020), English, illustrated by Rocky Cotard and written by Laurent Dubois, 10 pages
Read in Haitian Creole
Illustrated by Rocky Cotard, Written by Laurent Dubois, and Translated by Jacques Pierre
Revolisyon Ki Akouche Ayiti A (2020), Haitian Creole, illustrated by Rocky Cotard, written by Laurent Dubois, and translated by Jacques Pierre, 10 pages
Rocky Cotard, Illustrator
Rocky Cotard defies the narrow representation of Haiti through media, encouraging pride in the Haitian experience. Cotard has been an adjunct professor at Lesley University, has exhibited his work in galleries, and has been featured in Migrating Colors: Haitian Art in New England, created by the Haitian Artists Assembly of Massachusetts (HAAM). Find him on Instagram @rockycotard or at rockycotard.com.
Laurent Dubois, Writer
Laurent Dubois is a Professor of Romance Studies and History at Duke University and the Director of Duke's Forum for Scholars and Publics. He is the author of Avengers of the New World: The Story of the Haitian Revolution and Haiti: The Aftershocks of History. He tweets @soccerpolitics.
Jacques Pierre, Translator
Jacques Pierre was born in Cap-Haitien, Haiti. He is currently a Lecturing Fellow in French, Haitian Creole and Culture in the Department of Romance Studies at Duke University and Core Affiliated Faculty in the Haiti Lab. Before joining Duke University, he was a Visiting Lecturer in Haitian Creole and Culture at Florida International University. He tweets @PJacquespie.