UNSUITABLE: Robin Covington
UNSUITABLE #31: Resistance Romance
A Conversation with Robin Covington
Join us on Friday, February 19, 2021, at noon EST for a conversation with author Robin Convington. A USA Today and Wall Street Journal bestseller, Robin Covington loves to explore the theme of fooling around and falling in love in her books. Her stories burn up the sheets…one page at a time. A biracial Native American author of color, Robin proudly writes diverse romance where everyone gets their happy ever after. She is an unapologetic Indiginerd and comic book geek. She hoards red nail polish and stalks Chris Evans. A 2016 RITA® Award finalist, Robin's books have won the National Reader's Choice and Golden Leaf Awards and finaled in the Romantic Times Reviewer's Choice, HOLT Medallion, and the Book Seller's Best. She lives in Maryland with her handsome husband, her two brilliant children (they get it from her, of course!), and her beloved furbaby, Dixie Joan Wilder (Yes – THE Joan Wilder). Find her online at robincovingtonromance.com.
Free and open to the public. Advanced registration required. Support comes from the Carolyn C. and William M. McClatchey endowment to Gender, Sexuality, and Feminist Studies at Duke University.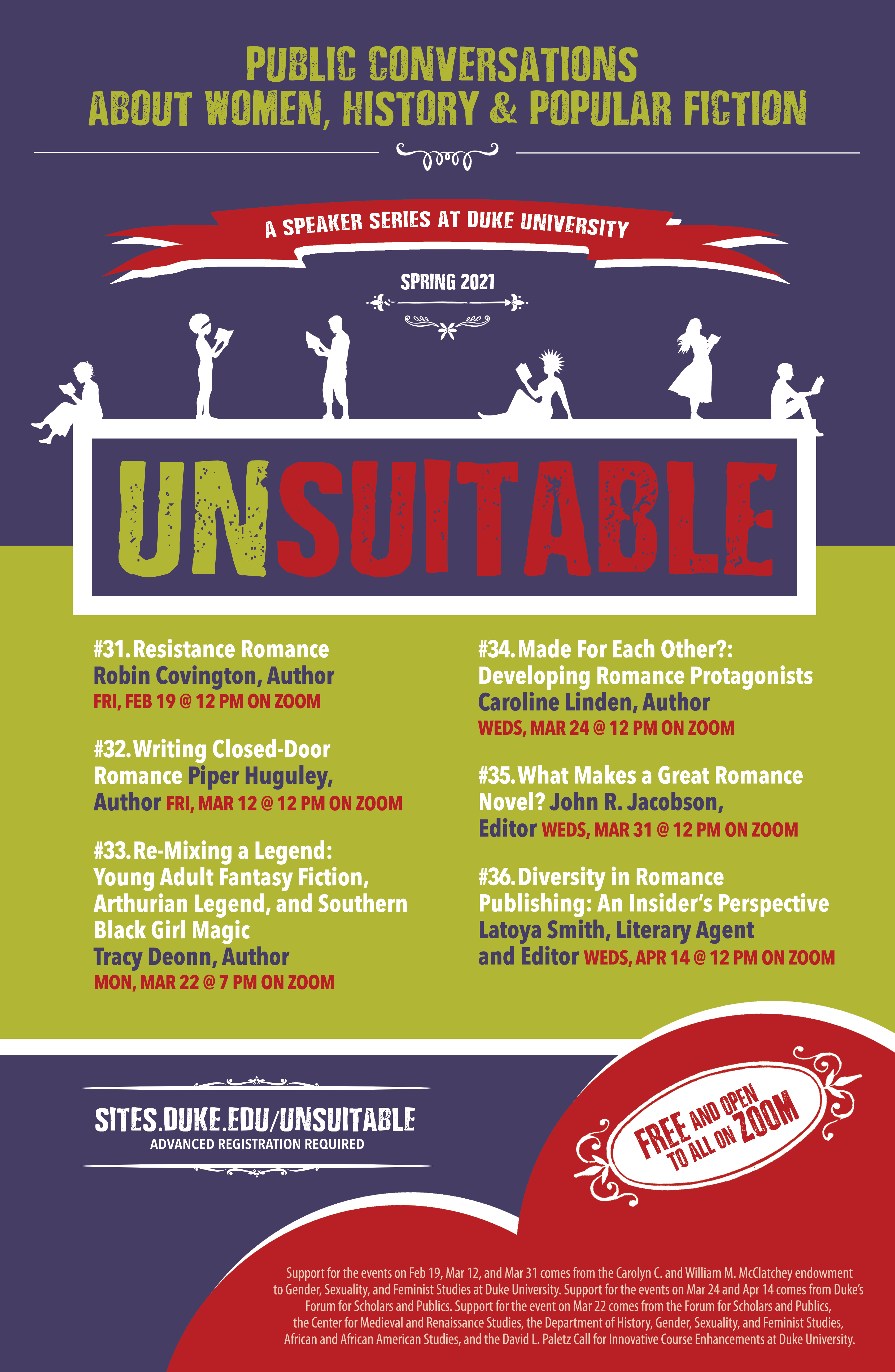 #31: Resistance Romance
Fri, Feb 19 @ 12 pm on Zoom
#32: Writing Closed-Door Romance
Fri, Mar 12 @ 12 pm on Zoom
#33: Re-Mixing a Legend: Young Adult Fantasy Ficiton, Arthurian Legend, and Southern Black Girl Magic
Mon, Mar 22 @ 7 pm on Zoom
#34: Made for Each Other?: Developing Romance Protagonists
Wed, Mar 24 @ 12 pm on Zoom
#35: What Makes a Great Romance Novel?
Wed, Mar 31 @ 12 pm on Zoom
#36: Diversity in Romance Publishing: An Insider's Perspective
Wed, Apr 14 @ 12 pm on Zoom