Marco Werman and Alex Harris in Conversation
February 2, 2016
It had been more than 30 years since they last sat together. Then, it had also been in a seminar room at Duke, Marco Werman in his last semester of college, Alex Harris a young professor teaching the unexpected combination of public policy and documentary photography.
By Margaret (Lou) Brown
On Thursday, November 5, 2015, Duke alumnus Marco Werman, journalist and host of Public Radio International's show, "The World," and Alex Harris, Duke professor and acclaimed documentary photographer, looked back at Werman's early work in journalism and documentary storytelling as an undergraduate student in Harris's "American Communities" course, and explored how that experience shaped Werman's current approach to telling other people's stories.
On this day, in November 2015, they were companions, exploring together the parallels in their professional lives and their recollections of the brief time when their paths had intersected.
Harris prepared for this reunion by diving deep into Werman's 1983 course project, "A Durham Family," documenting the family of Dale Shepherd, a young man Werman had met at a laundromat near Duke's East Campus.
Good documentary storytellers possess the qualities of attentiveness and vulnerability, and in his course, Alex Harris attempted to create an atmosphere for his students that encouraged these traits. For him, a powerful picture is one that "asks more questions than it answers," attracting the viewer's extended and repeated gaze. To create such a photograph requires a willingness to go into a project without yet knowing the story the photographs will tell, giving oneself permission to follow unanticipated paths and to listen to unexpected voices. Rather than thinking of good photography – or good journalism – resting on strong technical skills, both Harris and Werman emphasized the need to be a certain kind of person, one who asks questions and really listens, one who notices objects and mannerisms and moods, and one who takes good care of the gifts of others' time and stories and images.
Demonstrating why Harris referred to him as a "poster child" for the "American Communities" course, Werman described his experience:
"I came into the course thinking the whole thing was about photography, but the year turned into really being about meeting people and relating to people and trying to come in as an outsider to a world that is totally unfamiliar. How do you carry yourself in that world? ... In terms of the craft of photography, it was a real wide variety of what people came up with, but it was always when you saw the connection being made between photographer and subject or between subjects, so at ease that the photographer wasn't even there anymore, they would get these great frames. That's when the photograph would really hit. It was about the personal connection."
With Harris, Werman explored the subject he chose for his course project and how that early project connects to his work as a journalist now. From the outset, Werman understood that the very possibility for his project rested on his relationship with the Shepherd family, and he resisted removing himself from the story as though he were on the outside looking in. "I was actually on the inside looking in," he observed, and that connection to the family led them to trust him and his camera.
As Werman and Harris examined the photos, one-by-one, in the same sequence Werman had presented them in 1983, Harris commented on Werman's ability to evoke through his photos a sense of the ambiguity and mystery of interior lives, "about what it's like to be in the world." When Werman tells a story, whether in words or in photographs or in some combination of the two, he tells it through his own eyes, allowing the story to emerge, as Harris said, "without judgment."
On his daily Public Radio International show, Werman often breaks down its massive topic, "The World", into intimate stories of how real people are dealing with the big issues in the headlines. As Harris observed, listeners come away from those stories knowing more than the facts about a topic or a place; they know how someone's life is being affected and how someone feels about what's happening around them. Werman's stories give human emotion to unfeeling headlines. The people Werman interviews get something in return: witness to their experiences, acknowledgement of their feelings, and listeners to their stories.
As an example of this human connection, Harris referred to a story Werman did on "The World," in which he and his producer had gone to a village in Japan after the 2011 earthquake, and a few years later, assessing the immensity of the impact, he honed in on one object: a small rubber stamp.
his single stamp provides a way for the audience to comprehend the enormous loss experienced by the earthquake victims, creating a connection that couldn't be made through interviews with pundits and experts citing statistics.
Werman and Harris's conversation exuded a deep joy in what they do, expressing incredulity that it's possible to create careers out of traveling, spending time with fascinating people, and sharing those people's stories with the world. While Werman expressed regret that his current style of journalism, creating short segments for radio, doesn't allow for enduring relationships  ("it feels like a pit … a void," he said), even these stories can have long-lasting impact. The tsunami victim to whom the stamp belonged, for example, was stunned that someone halfway around the world cared enough to tell his story, and a woman in the audience at FSP vividly recalled hearing that story on the radio. Still, Werman's hopes for the future are to one day return to longform reporting, to integrate his photography into those stories, and to have the time to develop longer relationships with the people whose stories he tells.
Always, for both Werman and Harris, the work is about relationships: relationships with the people they're documenting, their subjects' relationships with one another, and the human connections their stories can build between the subjects of their stories and their audiences. In the discussion at FSP, the audience got an inside view of a particular relationship: that between student and teacher. The warmth and mutual respect between the two was evident throughout the conversation.
While the discussion was framed as Harris and Werman reflecting on the latter's college experience and subsequent career, it quickly developed into much more of a conversation between colleagues. Demonstrating the curiosity about others' experiences that makes him such a captivating interviewer, Werman took opportunities to explore Harris's past and the influence of other storytellers on his work. Harris talked about his work with Walker Evans at Yale and Robert Coles at Duke and the psychological dimension of their photography. He observed that his own early photography reflected his attempt to understand himself, to explore paths he might have taken and who he might have been. Maybe, he later told me, part of the attraction of having this conversation with Marco Werman was that he's still wondering what might have been, thinking back on his long-ago desire to have a career in radio. Now, however, he's confident that photography was right for him.
Harris's self-questioning was met by Werman's own willingness to open up about his life. In the text accompanying his photo project, Werman had written that for several days after meeting Dale Shepherd, "I was preoccupied with how old Dale was. He was between 15 and 23, an odd range this was to be sure, but I could not tell if he acted young or was really young. He was an old man, and a young man." When his former teacher probed a bit about what drew him to Dale Shepherd, Werman described his college self: "I think maybe there's a bit of a mirror of me there. 'Am I young, am I old? What am I trying to do? Where am I headed? What are you going to do with the rest of your life?'"
Harris's careful attention to Werman's work, past and present, drew him to focus not just on the technical strength of Werman's photography and writing, but also, and more importantly, on what Werman's work revealed about him as a person. Bestowing on Werman a compliment any student would dream of receiving, Harris ended the discussion with this observation:
Thinking about what you did back then and what you're saying now, makes me think about a photographer whose work we looked at back then, who became a writer, Eudora Welty. And she said her goal ultimately was to part the curtain of indifference that lies between us. And that's what I think about with your work.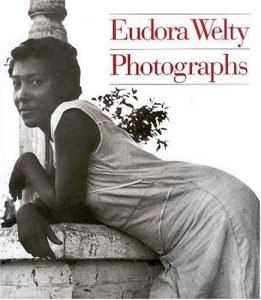 Following up with Werman and Harris after the discussion, I asked them each the question they both often ask others: "How did it feel?" What were their thoughts and emotions after their brief reunion in November? Each reflected on how the experience had set them to thinking about their own professional trajectories and methods, and also how it had led them to a renewed appreciation of the other's gifts.
The need for care in handling others' stories was demonstrated by Harris from the beginning of his preparation for this conversation with Werman. He considered multiple ways of starting the conversation, selecting one image and then replacing it with another out of concern that the first image might set the wrong tone. Similarly, he was prepared with a number of potential links to Werman's work that he might pull up during the discussion, leaving multiple pathways open. In the end, Harris did what he has inspired many of his students to do in their work: "I had prepared all sorts of things I didn't do because, in the end, I thought, this is someone who has conversations all the time with other people, and we should just be able to talk. So ultimately, I dropped a lot of the ideas I had and just talked to him, to see where the conversation went."
And Werman, in his follow-up email, acknowledged the continuing impact of Alex Harris's teaching on his work:
"It's about learning how to interact with your subject, whoever that may be. Recently, when I interviewed Reshman Quereishi, an acid attack victim in a slum of Mumbai, I know that as I sat there, even down to the posture and position I took in that interview (I let her sit higher than me, let her speak to me and not me to her, asked her questions like "why?" and "how did you feel when…?"), I was using lessons from Alex whether I was aware of it or not. He didn't teach how to approach people, but he did convey the need for utmost respect of others."